Doula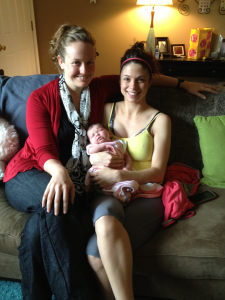 The word "doula" comes from ancient Greek, meaning, "woman's servant."  Today, doula is a term used to identify a birth coach or labor assistant who serves to meet a mother's needs.  Doula services provided by Pilcher Health & Bodyworks include prenatal, labor & delivery, and post-partum care.
Individually tailored packages are available, or you might want to try a prepared bundle such as the comprehensive doula care package, which includes:
~ 3 prenatal birth-planning & educational visits
~ assistance during labor/delivery to mother & partner
~ 2 post-partum visits at your home
~ resource list (books, videos, packets, articles, etc.)
~ 24/7 on-call services via text, phone, or e-mail
~ a prenatal reflexology treatment
~ $25 off a prenatal massage visit
~ discount on the Childbirth Education Series classes
~ copy of the doula's version of your birth story
Contact Dr. Paula today to set up your free 20 minute doula consultation!
 "My job is to support you, & help your experience be a positive & warm one  for you, your partner, & your baby."